Fine Italian Dining in Spartanburg, SC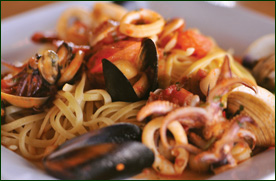 Italian food for everyone to try! When you want homemade Italian food in Spartanburg you have to stop in at La Taverna Italian Restaurant and try our wonderful cuisine. We make fantastic pasta, pizza, calzones, tortellini, gnocchi and more! You'll love our food and have a great time in our beautiful dining area. For years Chef/Owner Rosario Pugiese has worked hard crafting his specialty Italian dishes to perfection, and now he can't wait to share with you and your family!
La Taverna Italian Restaurant is the best in dining out. Because you deserve to have an excellent dining experience, put your trust in us. Our friendly staff and expert traditional meal artisans will craft a meal that you'll never forget!
Visit us in Spartanburg, or give us a call at 864-576-8660!